Simon Fryer
Principal Cellist of the Regina Symphony Orchestra, Founder and Director of the Prairie Cello Institute, and Artistic Director of the Women's Musical Club of Toronto's Music in the Afternoon  concert series, Simon Fryer is an artist of the utmost versatility, at home with the demands of the music of our time and those of historical performance, with the cooperation of ensemble music-making and in the solo spotlight.
Appearances as soloist in Canada with orchestras such as the Regina, Mississauga, and Okanagan Symphonies and the Esprit Orchestra, as well as the Da Capo Chamber Choir and the Wellington Winds, have been complemented by performances as guest Principal with such as the Hamilton Philharmonic. Previously a member of the Toronto Symphony Orchestra, internationally he has performed with the Orqestra Sinfonica de Tenerife and the UK's Northern Sinfonia. As a member of the Juno-winning Penderecki String Quartet – one of the Canada's most successful ensembles - Simon performed regularly across Canada and around the world. The PSQ released several discs during this time, including the complete cycle of Bartok's String Quartets, and worked closely with many of the world's most innovative contemporary creators from Christos Hatzis to DJ Spooky. Simon's discography of over 30 recordings includes the solo CD: Music of a life so far... which was acclaimed as 'a fascinating collection'  by the Toronto Star. Of his latest release, on Centaur Records, a CD of Victorian Cello Sonatas by Samuel Liddle, Algernon Ashton and Charles Stanford with pianist Leslie De'Ath, Wholenote magazine lauded 'expansive playing … Fryer's tone in the lower register is particularly lovely.'
Simon has held faculty positions at Wilfrid Laurier University, the University of Toronto, and the Glenn Gould School in Canada, as well as at the Casalmaggiore International Festival in Italy. Well-known for his master classes in cello and chamber music, Simon has been a guest of many institutions including the Vivaldi Conservatory, Oberlin Conservatory, Shanghai Conservatory, Hong Kong Academy for Performing Arts, Memorial University, the University of Western Ontario, Mount Royal College, Indiana University; the University of Southern California, Paris University 8, and the University of British Columbia.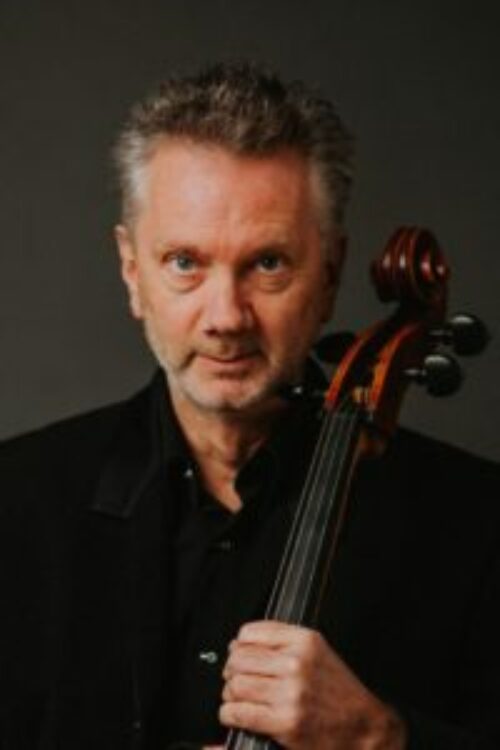 Featured Performances