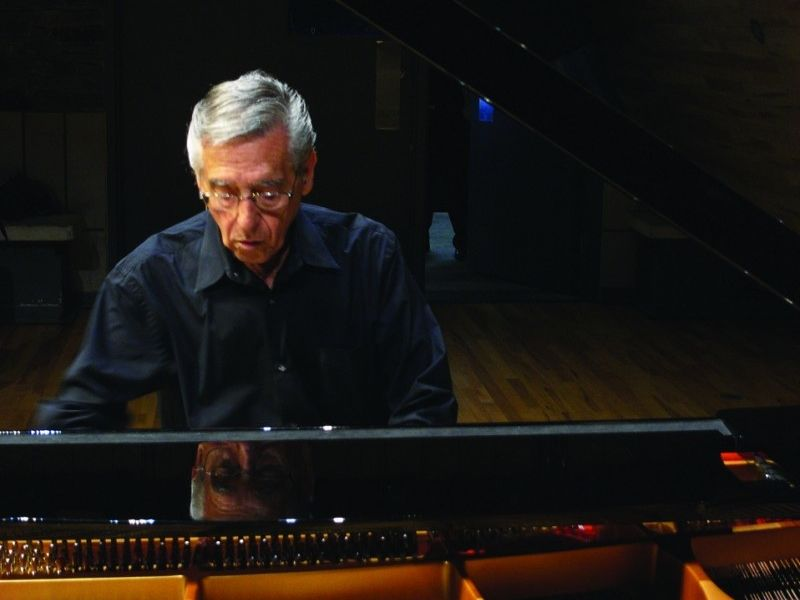 IN THIS ISSUE
Gene DiNovi's 95th Birthday Video Card
Special Offer From Best Western
European River Cruise
From the Chair
Plant Sale
Extra Brochures
---
HAPPY 95TH BIRTHDAY TO GENE DINOVI
Please join us in wishing the one and only Gene DiNovi a very happy 95th birthday today!
Gene has been a great friend of the Festival for many years. We are not exaggerating when we say he and his playing are legendary.
To honour Gene's big day Artistic Director James Campbell commissioned this special video birthday card. Please take a few moments to enjoy some terrific jazz from Gene and James. These two exquisite players are clearly having a ball playing together, and Gene's reminiscence of the golden age of jazz features his own stories with some of the greatest names in all of 20th century music.
Happy 95th Birthday Gene, from your friends, family, and the Festival of the Sound!
---
SPECIAL OFFER TO FESTIVAL PATRONS FROM PARRY SOUND'S NEWEST HOTEL.
We are thrilled to announce a new partnership with Parry Sound's newest hotel, the Best Western Plus Parry Sound. Boasting four floors of hospitality, complimentary breakfast, meeting spaces, a heated pool, and more, General Manger Biren Patel and his staff are eager to welcome Festival patrons. Simply present your Festival of the Sound ticket at the front desk, bearing the same name as on your Best Western reservation, and receive 15% off of your accommodations.
---
MAY 2024 EUROPEAN RIVER CRUISE: CELEBRATE 40 YEARS OF ARTISTIC DIRECTION WITH JAMES & CAROL CAMPBELL
We are proud to once again be working with Special Travel International to present Festival patrons with an opportunity to enjoy beautiful music performed by some of your favourite Festival musicians through the spectacular Moselle – Rhine route.
The Festival is pleased to be hosting a raffle with a grand prize of a cabin on this cruise, valued at $20,000. Only 300 tickets will be sold, and only in the lobby at Festival events this summer. Tickets are $100 each so don't miss your chance. (N.B. if you have purchased this cruise you can still enter the raffle and apply the prize to your purchase.)
---
FROM THE CHAIR
Members and staff of Festival of the Sound met May 15 at our Annual General Meeting (AGM). The
AGM is a yearly formal opportunity for the membership to hear about the successes and challenges of the
previous year, review audited financial statements and by-law updates. It is also a chance for members to share input and ideas with the Board of Directors. For me, the most rewarding part of the meeting is welcoming new Board members. This year we happily approved three additions to our team.
Joyce Delong
Joyce is a full-time resident of Parry Sound. She has over 30-years experience in professional financial, management and controller roles. We welcome her positive approach, her proven ability to bring people together to complete a project, her customer-focused leadership, and her entrepreneurial skills. Joyce is a warm and out-going relationship builder and keen to be involved in the local community.
Sarah Hicks
Sarah is a seasonal resident in the Parry Sound area and a Festival attender. She describes herself as a
"life-long classical (and all) music enthusiast". She currently runs her own private consultancy which
involves advocacy work and lots of strategic planning. Her volunteer board experience is significant and
diverse. Sarah welcomes the opportunity to contribute her skills and expertise to Festival of the Sound's Board of Directors and support our ongoing vitality.
Steve Hornett
Steve is an independent technology consultant and provides his clients with business strategy, technical
architecture and project management services. Steve lives in Rockwood, ON. He has been a patron of Festival of the Sound since 2002 and fondly recalls one of his first Festival events as an 'out-of-body' experience – a small Chopin recital held in a private home on the Georgian Bay. Steve has had a variety of roles with the Kitchener-Waterloo Symphony Board. Steve views Festival of the Sound as his "Happy Place" and is looking forward to contributing to the stability and growth of the Festival in numerous
ways.
To Joyce, Sarah, and Steve, on behalf of the entire Board of Directors, I welcome the new ideas,
competencies and experiences that you bring to our table.
Cathy Ballantyne
Board Chair
---
2023 PLANT SALE ANNOUNCEMENT
For many years some of our most faithful Festival volunteers have spent this time of year up to their elbows in the dirt digging up plants for our annual Plant Sale Fundraiser.
We have opted to give our green thumbs a rest and take a break from this particular fundraising activity this year. A little bird tells us the Parry Sound & District Horticultural Society will be hosting their own annual plant sale on Saturday, June 3. Starting at 8:30 am this sale is held on Tower Hill. All proceeds still go to support great local initiatives.
Thank you for many years of beautiful flowers and we hope to see you again at future plant sales.
---
SHARING EXTRA BROCHURES
If you are a Member you may have noticed an extra brochure in your envelope this year. Rest assured you are neither seeing double, nor was this an accident.
We know our Members are our biggest fans and boosters, so we hope your extra brochure will find its way into the eager hands of someone who has not yet discovered the Festival of the Sound, or with whom we may have fallen out of touch.
Thank you for your ongoing support of Festival of the Sound. We are excited to see you once again in Parry Sound, July 19 – August 5.